The Dual Meaning of "Wood Cures": Craftsmanship and Soulfulness
Have you ever marveled at the intricate grain patterns on a wooden furniture piece? Or felt a unique sense of joy carving out your first dovetail joint? Welcome to "Wood Cures," a sanctuary where we don't just discuss the woodworking craft, but also how this timeless art serves as soul therapy. Here, 'curing' wood and 'curing' what ails you are two sides of the same beautiful coin.
The Art of Curing Wood: Crafting Starts Here
The term "cure" often evokes thoughts of medicine and healing. But in the woodworking realm, curing is the first crucial step toward creating your masterpiece. It's an intricate process that allows wood to shed moisture, gain resistance against decay, and prepare itself to bond seamlessly with surface finishes. Curing isn't about speed; it's a slow, delicate process that rewards patience. Hastily-cured wood tends to warp, reducing its usability for your grand projects.
Recommended Woods for Curing*: Oak, Pine, Cherry
Optimal Conditions*: Humidity below 50%, Temperature around 70°F
Time Required*: 6 to 9 months (varies depending on wood type and conditions)
Woodworking: The Cure for Modern Life's Ailments
Life today bombards us with stressors—be it deadlines at work, financial worries, or just the never-ending noise of social media. Too often, we escape by sinking into our couches and losing ourselves in endless scrolling or TV. However, these distractions are just that—temporary escapes that don't truly satisfy.
It's time to step back from the virtual world and get your hands dirty in the real one. Woodworking offers a tactile, tangible way to reconnect with the world and with yourself. The joy of turning a rough piece of lumber into something beautiful and functional is not just a creative act; it's almost spiritual.
Beginner Projects: Birdhouses, Cutting Boards, Simple Stools
Intermediate Projects: Coffee Tables, Bookshelves, Adirondack Chairs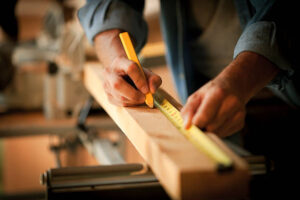 A Cure for Wood, A Cure for You
So, the next time you find yourself burdened by the weight of everyday responsibilities, consider this: woodworking doesn't just 'cure' wood; it has the potential to cure what ails your spirit. It's not just about making objects; it's about making sense of your world, one piece of wood at a time.